You can send a Quote to a job either from the Find Jobs page or from the Job Details page by clicking on "Send a Quote" button.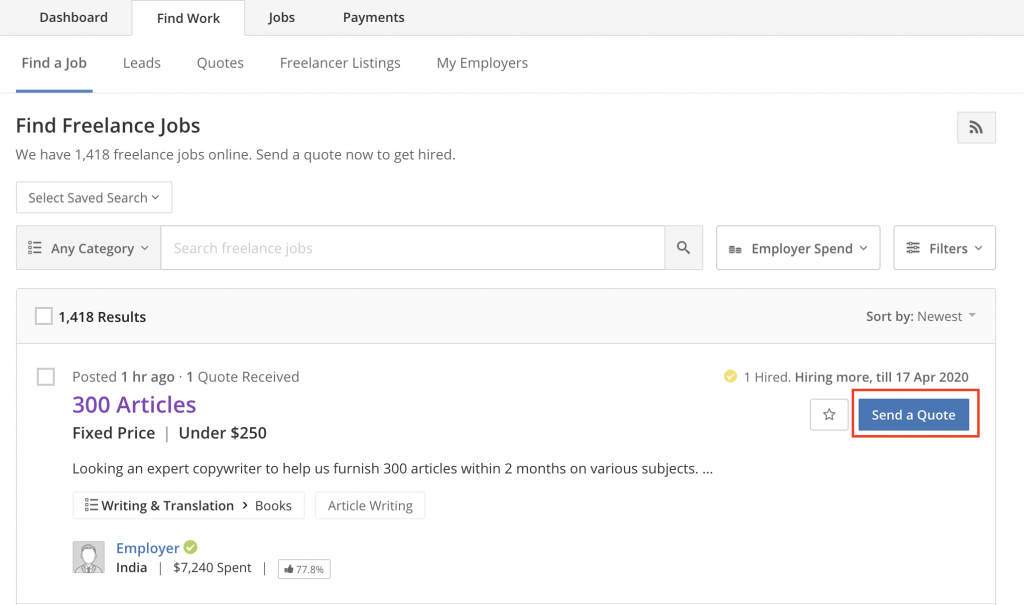 Sending a Quote is a quick, three-step process:
1. Set Payment Terms:
Choose a Suitable Payment Term: Depending on the nature of the job and your working style, you can choose from four Payment terms. You can also choose to skip setting a payment term at this stage. A Placeholder Bid will be sent to the Employer and the Payment term can be finalized later.
Set SafePay Balance: This is the minimum balance you require in the SafePay before beginning work.
Set Automatic Payments (AutoPay): You can set the number of days within which invoices must be paid by the Employer. The funds are automatically released from SafePay and credited to your Cash Account.
Split Job Fee: You can choose to split up to 5% of the job fee with the Employer.
Work Updates: You can set how frequently you'd like to share work updates.
2. Define Scope of Work: Define your understanding of the job, how you want to approach it and the timeframe along with deliverables.
3. Finalize Quote: Before sending the Quote:
Send a Premium Quote to stand out amongst other Quotes received by the Employer.
You can choose to share your contact info. Employers will be able to see your email and phone number along with your Quote.
Make the transaction private, if required. For private transactions, earnings and transaction data is not added to your Profile and All-Time Transaction Data. Know more about it here.
Enable Auto-accept and set a date before which you will get hired automatically if the Employer accepts your Quote. This helps in creating a WorkRoom immediately and getting work started.
Note:
When a Quote is sent to an Employer, we display the All-Time Transaction Data of the Freelancer along with the Quote. However, if there is no transaction history on Guru, we display Freelancers' ID Verification status with the Quote.
Did you find this article helpful?