Submitting a quote is the easiest way to get hired on Guru. More than likely, an employer is posting a job and has no idea who can get it done. Submitting a quote is your opportunity to sell your services directly to the employer knowing that they're in the market. The process of submitting a quote is pretty straightforward. However, there are some things you can do to meaningfully increase your odds of being hired.
Below I provide in-depth tips for crafting winning quotes. Looking for the short version? Check out our handy cheat sheet:

6 Hacks for Submitting Quotes That Get You Hired:
1.) Read the employer's entire job posting
Employers do not want to read your generic, run-of-the-mill proposal. However, it's kind of hard for an employer to quickly figure out if you're appealing to them directly or simply dishing out some pre-fabricated response. The most common way they make this determination is to ensure you've read their ENTIRE posting. An employer will sometimes throw in something like "please mention the word 'rabbit' at the end of your quote so we know you've read it". If you miss this request, there's a very good chance your quote is being thrown out. Read the whole post and craft your quote to that employer as much as you can!
2.) Use a template but use it to your advantage
We have a template manager on our platform that allows you to quickly insert pre-created content into a quote. You might ask why I would suggest this immediately after telling you to always send a unique quote. However, there is always going to be information in a quote that is generic enough that you can write it out in a template and then tailor it when it comes time to apply to a job. You could do something like this: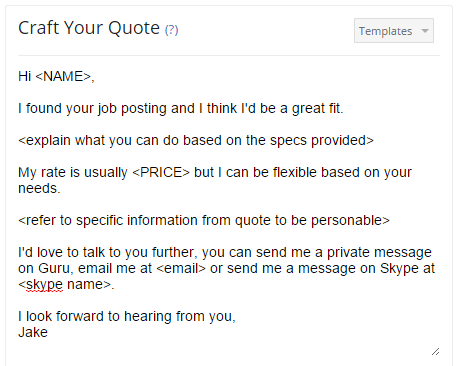 The "Templates" drop down at the top right will let you save your template. Give it a shot.
3.) Always try to be specific about your price
I understand it's tough to nail down a price if you're truly unsure of the specifics of the job. Especially if the job description is vague. However, we make a point to label the price field as an "estimated cost". I would say you should error on the side of caution and always try to add an actual number. If anything, your foot is in the door if the employer begins a conversation with you and you can use it as an opportunity to speak in detail and figure the price out. I think, more often than not, it's better to get a lead that ends in disagreement on price than not getting a lead at all. We will always allow you to choose "placeholder bid" in place of an actual estimation of cost but many employers want to see a hard number, even if it's a ballpark figure.
4.) Is the job perfect for you? Send a premium quote
If you're an upgraded member (you need to be Professional level or higher), sending a premium quote to an employer will immediately get their attention. It's your "hail Mary" play; you don't want to use it constantly but it's great when the time calls for it. A premium quote brings you to the top of the list of applicants for a job and tells the employer that you're serious. I'd use premium quotes sparingly because they'll quickly exhaust your available bids. If you REALLY think a job is perfect for you, then send them a premium quote. No matter what, make sure what you've written to the employer is still excellent. There's no use in sending a generic quote and spending the bids to make it premium.
5.) Fix "No Matching Skills" any time you see it!
Any time you go to submit a quote, you'll see a list of skills from your profile that directly match the skills an employer has listed in their job posting. If you have matching skills, we'll tell you and list them. The more skills you match, the higher your visibility will be and the more we'll recommend you to an employer. If your skills aren't matching up but you know you can do the job, check the list of skills the employer included, go back to your list of services within your profile and add one or more of those skills to a service. It's not cheating to make quick revisions like this—you're simply optimizing and expanding the breadth of your profile and working intelligently. Here's my list of skills: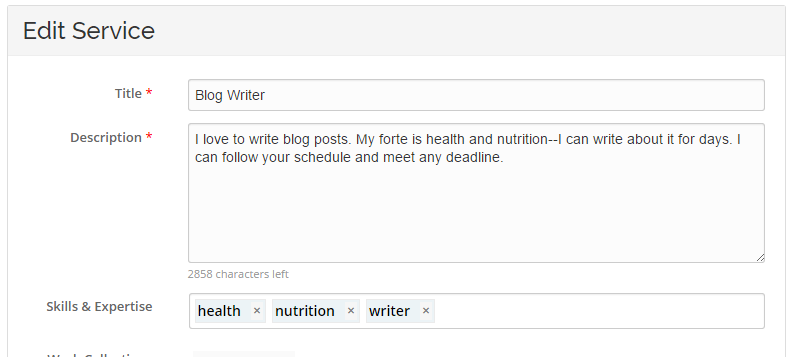 And here's where they match up with a job posting:

6.) If you're not attaching your stuff, you're doing it wrong
Every single quote you send out should have some kind of attachment. You'll immediately stand out from the sea of text sent by other freelancers and you're already convincing an employer to interact with your work. Even if it's a word document; the employer is opening something you've created and reading it. You're already hooking them! It goes without saying that images are visually stimulating and a great way to catch someone's attention. If you're a graphic designer, I can't think of any reason why you're not attaching your best work to each quote you send. Our system allows you to directly attach your portfolio pieces (you've set up your profile, haven't you?), attach files directly from your computer and/or attach items from previous quotes. You can use all three sources simultaneously. I admit—none of these are really hacks but I got your attention, didn't I? You can get the attention of prospective employers if you make your quote compelling enough and use the system to your full advantage. These six tips will give your quote prominence and make it stand out from a lot of your competition. Back your quote up with your skills and communicate well with your employer and you'll be in great shape to get hired.