The new Dashboard offers an enhanced experience and improved usability to help you work smoothly on Guru.
The Dashboard is an integral part of working on Guru. It provides you with essential information on all your jobs at different stages of the freelancing journey so that you can take action and make decisions accordingly.
As a part of our efforts to continuously improve your experience on Guru, we have further optimized the Dashboard designs to improve the usability, accessibility, and interactions on Guru.
The new Dashboards provide you insights into the most important aspects of your freelancing journey on Guru, help you identify urgent action items, streamline workflows, align efforts and manage work effectively. Moreover, the Dashboards are now responsive so you can access them on any device and work online conveniently.
Here are the changes that you can see on the Dashboards.
Freelancer Dashboard
1. Responsive design for improved usability across devices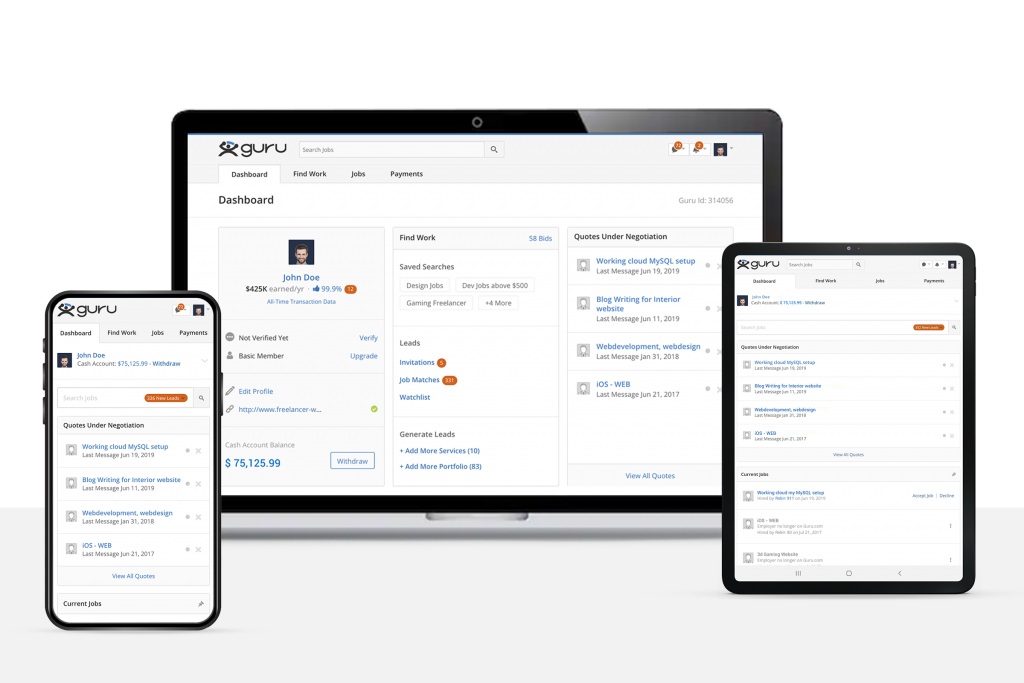 The new Dashboard is responsive across devices for a smooth and seamless experience.
2. Account and Profile summary for quick accessibility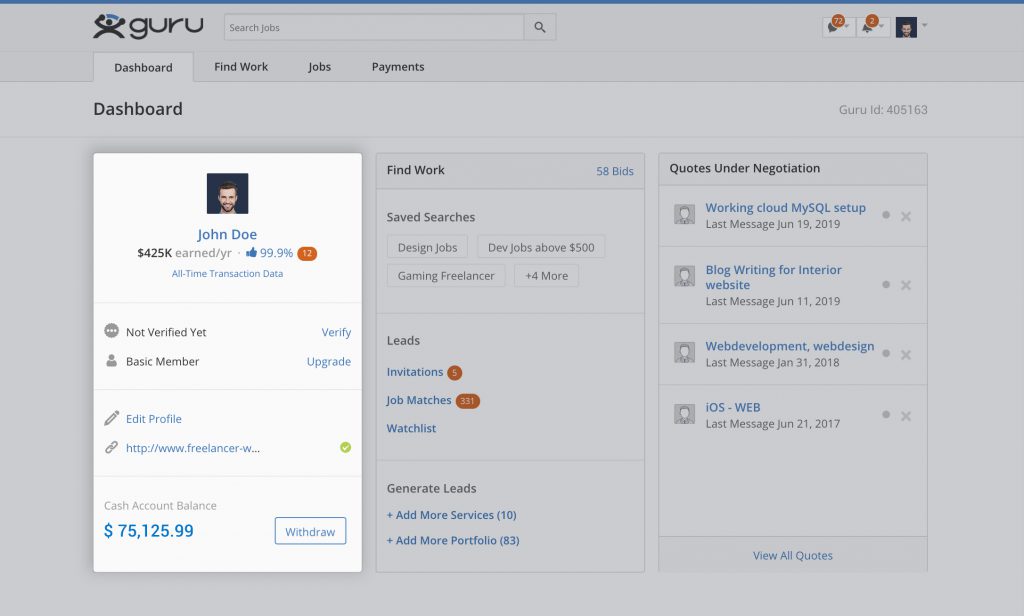 You can now track and update your account information directly from the Dashboard. The following links are now under your account summary for your convenience:
All-Time Transaction Data – You can see your performance history here. (Employers see your All-Time Transaction Data along with your Quote to understand your suitability for their job. Know more.)
Verification – Your ID Verification status is displayed. It is important that you verify your Profile on Guru to gain the trust of Employers.
Membership – Your current membership plan is shown with the option to upgrade (if applicable).
Profile – The account summary also has a link to edit the Profile.
Website Link – You can add a link to your website which is displayed on your Profile and with the Quotes you send to Employers.
Cash Account Balance – The current balance in your Cash Account is displayed along with the option to withdraw the funds.
3. Quick access to services and portfolios to generate more leads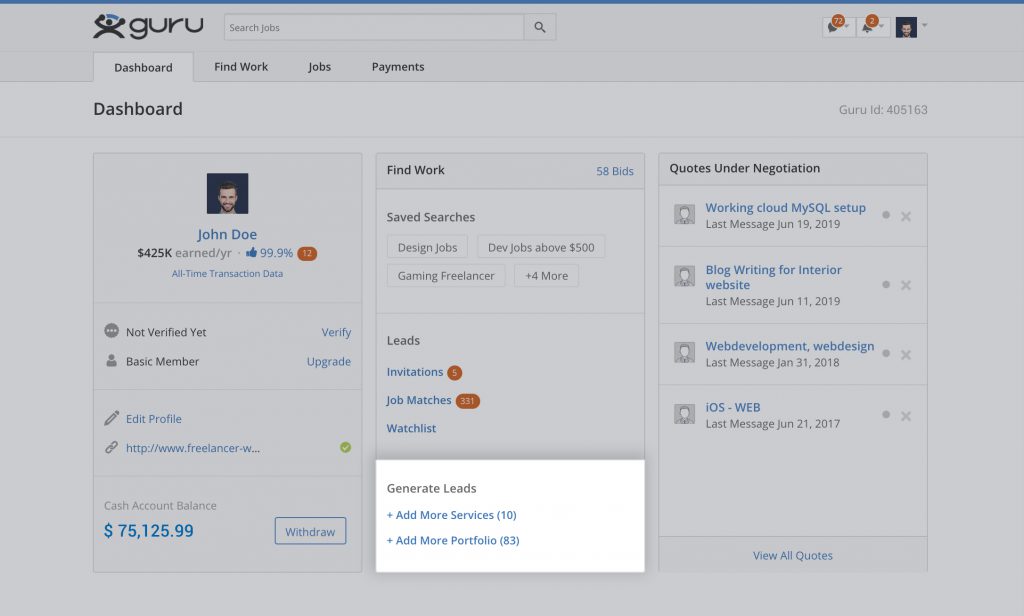 To get more leads (Job Matches and Invitations), you must regularly update your Profile with the skills and services you offer and showcase the work done with portfolios. The more services and portfolios you add, the more leads you will get.
Saved searches, leads and the option to add services and portfolios are now under "Find Work" on the new dashboard.
4. Identification of action items with 'new message' icon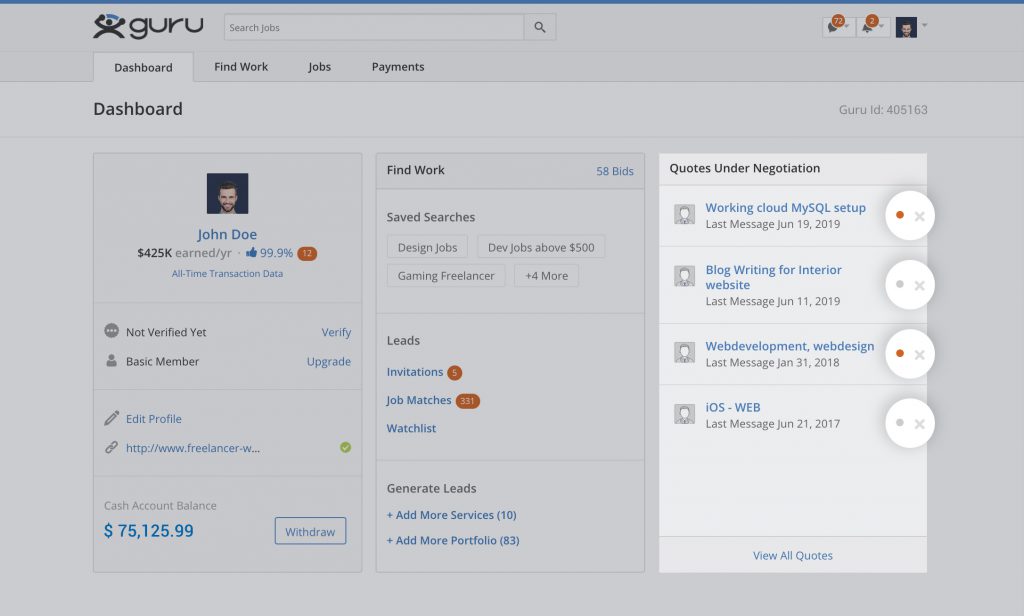 When a Quote is under negotiation, there is a constant exchange of messages. New messages received on a Quote are now displayed with an orange dot so that you can identify them easily and reply to them immediately.
5. Improved usability with list format of current jobs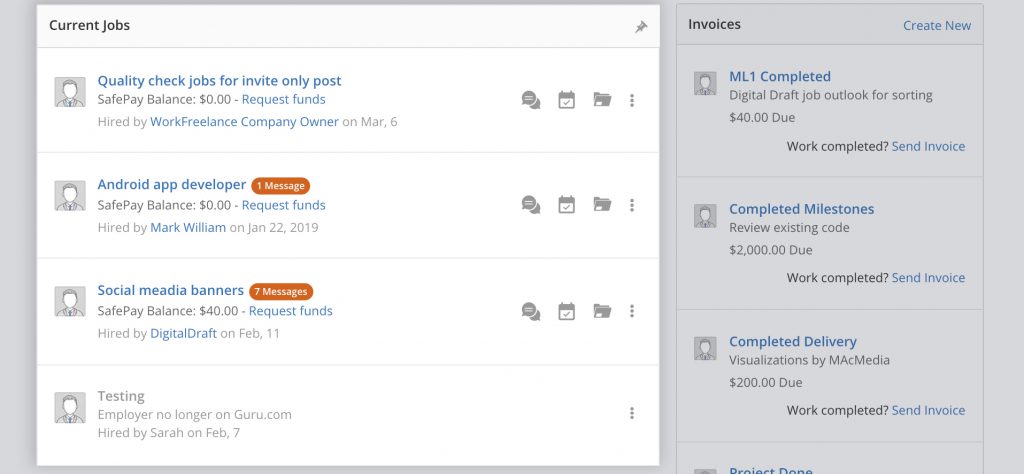 The new list format makes it easy for you to access the jobs as they are placed one below the other. Action items are placed as solid icons for easier identification and new messages in the WorkRoom are displayed with an orange tag.
Employer Dashboard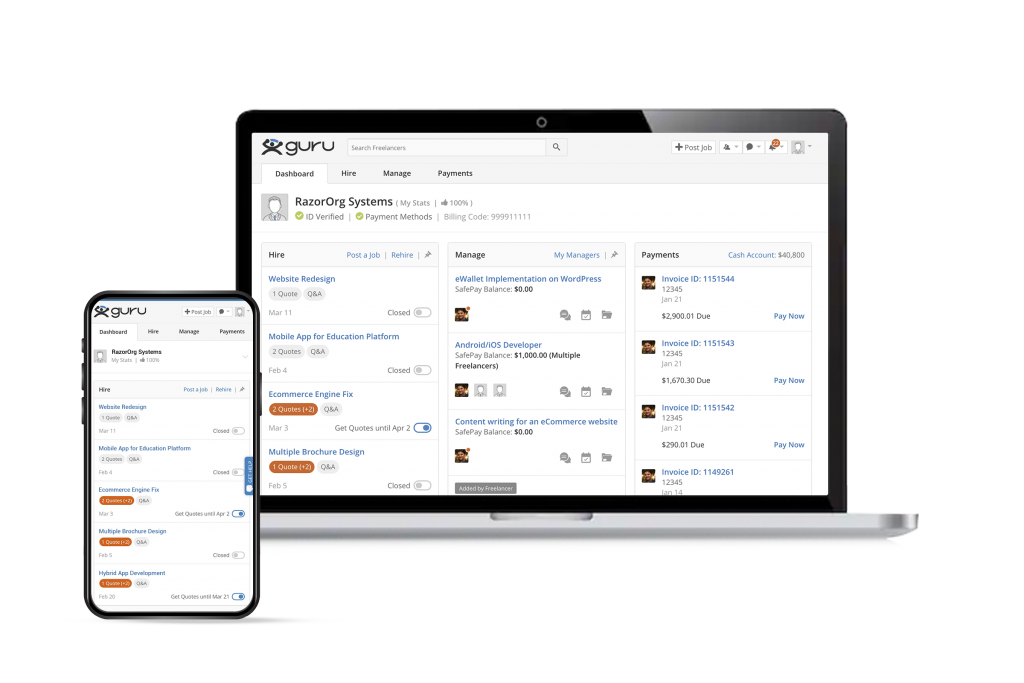 The Employer Dashboard has been updated with new designs that are responsive and allow usability across devices. New messages are highlighted with an orange tag for quick identification and solid icons have been used for important actions like chats, messages and file folders which Employers directly access from the Dashboard.
Existing Guru users need to only log into their accounts to experience the new Dashboard.
More to come
As we update the user experience on our website, you can expect UX enhancements like these rolled out on a regular basis. The next set of improvements that we have in the pipeline include updates on the Freelancer Profiles.
Stay tuned, and let us know what you think of the new Dashboard design. You can send in your feedback to contactus@guru.com.
Guru.com is an online freelancing platform that helps Employers connect with Freelancers from across the globe to get work done securely, flexibly and cost-effectively. If you are looking to hire a Freelancer with a particular skill, post your requirement on Guru now and get Quotes within hours. If you are a Freelancer, find freelance jobs that match your skills.